Are « all seasons » tires good for winter? Not so fast!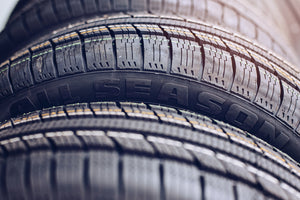 We've had a lot of questions about "all season" tires and if they were of proper usage for our canadian weather. Here is our take on the subject!
All seasons is not necessarily all weather!
Canadian winters are harsh. We all know it. Some of us have a lot of snow and some of us lives in more temperate climate like GTA. One thing is for sure: we must have good tires for winter either proper winter or all weather. This notion is very important because some tire manufacturers will use the term "all season" in their tire name.
But are they really made for winter? Let's compare 3 tires of the same brand, Michelin:
Michelin Crossclimate2

Michelin X-Ice Snow

Michelin Pilot Sport all season 4

Winter approved with the snowflake logo.

Usable all year long.

Thread is more aggressive than a standard summer tire.

Winter approved.

Big blocks for better grip on the snow.

Small ridges for better grip on ice.

Not recommended for summer usage.

No snowflake logo.

Smoother surface.

Not an aggressive design.

Made to evacuate water.
Simply by comparing and looking at the treads of those 3 tires, we can see that the Michelin Pilot Sport All Season 4, while being described by the manufacturer as an "all season", is not the best option for our canadian climate.
This brings us to the core of our topic: always be aware of the tire type that you buy and ask questions. Take your time to check the different treads. While Michelin consider the Pilot Sport 4 to be winter ready, we at tiredirect.ca think that these are not the best for our winter climate. Moreover, in some provinces, cars need to have proper winter approved tires and the Pilot Sport 4 would not be considered a viable option.
We consider the Pilot Sport 4 to be an EXCELLENT performance tire but is not the prime choice for a winter usage. And this is only an example; other manufacturers use the same marketing practice to promote their products.
The golden rule here would be not to only trust the name of the tire but to look at it's design, treads and ask questions before purchasing.
Thank you and drive safely!